Seguin is committed to integrate, enrich, and empower people with disabilities and other special needs, so they can be productive, valued members of society.



Get Involved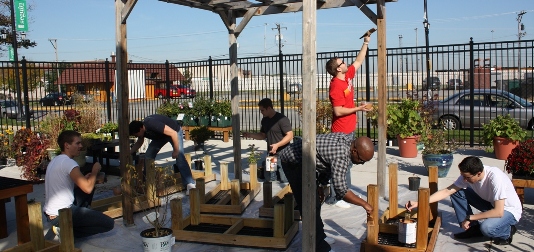 Volunteer
Volunteers play a crucial role in making things happen at Seguin Services. Without the support of our many generous volunteers, Seguin's special events, evening & weekend activities and Special Olympics programs would not be possible.
Volunteers can be corporate groups, families, student organizations or individuals interested in helping adults and children with developmental disabilities and other special needs.
Volunteer projects include the following:
~ Yardwork and planting projects at one of Seguin's 60+ homes
~ Helping with day program activities such as Horticulture Therapy, Fitness classes or craft projects
~ Serving on one of Seguin's special event committees to help plan our annual Celebration Gala or Golf Classic
~ Signing up your school to participate in Seguin's Youth Leadership & Disability Awareness program
~ Working with Seguin staff to provide participants with outside trips and activities - going to church services, visiting a library etc
~ Utilizing your skills and talents to provide a fun and meaningful activity for Seguin participants - Hip Hop Dance Class, Arts & Crafts, Music Lessons etc
To view photos of Seguin Volunteer Projects, please follow this link: http://www.flickr.com/photos/55052227@N08/sets/72157625425662676/
Please complete the form below to volunteer at Seguin Services